Wedding Central
Plan Your Wedding at Valley View!
Want to host your wedding at Valley View Freewill Baptist Church? Our indoor and outdoor facilities are available for weddings when you need them (within our calendar of availability). Here are a few images concerning the appearance, layout, and facility attributes you can expect at Valley View. If you would like to make a reservation of our church, please call (276) 926-8731, and leave a message for Mrs. Paula Vanover concerning your inquiry. We will try to respond within 1-2 days with our availability and prices. Thank you!
NOTE: For a more prompt response, please attend our Sunday 11 AM service and speak directly with Mrs. Paula Vanover about your anticipated event.
Downstairs Reception/Dining Hall
Dining Hall. Has a Men's Restroom, and a Women's Restroom. Storage access and classrooms. Consists of several tables, each about 7-8 Feet long/ 4 feet wide. Counterspace that stretches as shown in image. Can drink/ bottled drink cooler available as shown in image.
Exterior of Church (Front)
Keep in mind that this is the FRONT of the church building. In the blueprint below, the FRONT is considered towards the stage, which is in actuality at the opposite side of the church as shown here. It is on the rear of the building.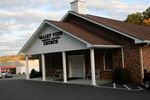 Exterior of Church (Back)
Church Blueprint (Upstairs)
This blueprint is an approximate rendering of what the church would look like from a blueprint. The pews are NOT guaranteed to be of the same number as in the actual church. Also, please just use this as a tool to figure out your plans for the church. Do NOT rely on this blueprint to be exactly the way it is in the actual church.
Church Blueprint (Downstairs)
Chapel (rear)
Rear of Chapel, facing toward foyer. Rear consists of sound room, Pastor's Study, and Restrooms in foyer. Stair access to downstairs dining hall in foyer. Stair access at front of church (around stage).